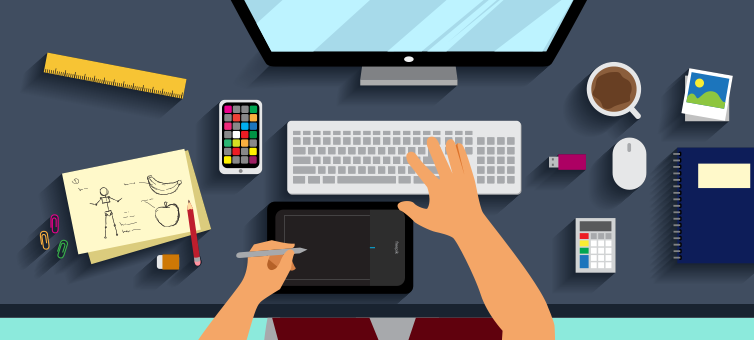 Add value to your business
Design is the way to differentiate yourself from your competitors, helping solve problems creatively – improving the way your business operates – and adding value to your products/services. The latest study by InVision found that when an organisation applies the principles of design to its strategies and structures, it's making a conscious decision to innovate at all levels.
'Design is changing the way we work, and how we do business'
Make that killer first impression
To be successful you need to stand out from the crowd. Have you ever thought about what makes you different? You only have a few seconds to make a first impression on someone; so well constructed and eye-catching design can keep them interested. If your logo and marketing material looks shabby and unprofessional the connotations that are attached will reflect on your business' services/products.
Good design keeps your brand memorable. Colour and imagery are especially important as most people remember an element as a visual cue to base memories on. Strong branding represents you and your promise to your customer, connects you with your customers emotionally, generates referrals and helps customers know what to expect. Design levels the playing field against other brands that are still trying to figure out who they are, what they stand for, and what they want to be famous for.
'Design is thinking made visual'
Good design solves problems
Design is not only about making something visually pleasing but also about thinking of creative ways to address a problem to better meet customer needs. Designers consider the audience for everything they do, optimising content to suit their needs and using colour and type to help better communicate with them. Customers are often willing to pay more for something well-designed that can offer them benefits such as greater usability, increased functionality and improved aesthetics.
Perhaps now is the time to look at your design and think about what you are conveying to customers or prospects.
Consider your last email campaign – if you disregard the words, did the design send the right message?
(InVision, Product Design Trends, 2016;)
Design plays a leading role in 38.4% of the top 10% of companies across the world with at least 2,000 employees. Start-up percentage is much higher with 65% leading with design
More and more top decision-makers at companies see design as playing a crucial role at their company.
(The Design Economy: The value of design to the UK economy Executive summary, 2015;)
Design's contribution to the UK economy is £71.7bn in gross value added (GVA), equivalent to 7.2% of UK total GVA
Workers with a design element to their work were 41% more productive than the average
In 2013, the total value of exports where design had made a key contribution was £34bn
(Design Council: The Value of Design Factfinder report, 2007)
Every £100 a design-led business invests in design repays £225 in increased sales
Shares in design-led businesses outperform key stock market indices by 200%
Businesses that add value through design see a greater impact on business performance than the rest
On average, design alert businesses increase their market share by 6.3% through using design
Turnover growth is more likely for businesses that increase their investment in design. Conversely, those that decreased investment cut their chances of growth.